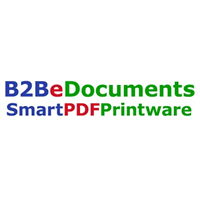 B2BeDocuments SmartPDFPrintware
Add Content HereSmartPDFPrintware enables touch-less automated print production of a wide variety of complex PDF jobs on Canon Systems by dynamically generating variable JDF job tickets for variable page-layout documents involving multiple tray variable paper-pulls, variable inserts and more. SmartPDFPrintware eliminates manual page-level print-override programming and custom one-off print programs.
SmartPDFPrintware provides a user-friendly intuitive Graphical User Interface that any user with minimum technical skill can learn very quickly; and define conditional-rules for print automation to automate production of wide variety of PDF jobs.

Powerful, patented "Text On Page", "File Name", and "Position" print automation methods in SmartPDFPrintware enables user defined rules driven automated non-stop production of electronically collated variable page-layout PDF documents requiring variable print-overrides in the same production run.

SmartPDFPrintware dynamically generates job-specific variable JDF job tickets that override default values programmed in the Print Controller's print-queue - eliminating page-by-page, document by document manual print-override programming using either print driver, a make-ready application or at Print Server.
Brand :
Canon
Category :
Software Solutions